New Report Highlights Causes and Risks of Pedestrian Accidents in Georgia, Nation
A recent pedestrian accident in Sandy Springs on Roswell Road took the life of an 18-year-old. The accident reportedly happened right after he helped an unnamed child onto the school bus. After the child boarded the bus, the teen walked in front of the bus and stepped into the path of an oncoming vehicle that failed to stop for the bus. The vehicle did stop at the scene of the accident. It happened between 3:00 and 4:00 p.m., according to CBS Atlanta.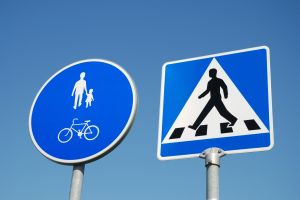 Our North Georgia pedestrian accident attorneys understand that this story comes at a time when pedestrian safety is a big topic of conversation among transportation officials. According to a recently released report from the AAA Foundation for Traffic Safety, there were approximately 4,000 pedestrians killed on U.S. roadways in traffic-related accidents in 2009. It is estimated that another 60,000 pedestrians were injured in these types of accidents. In an attempt to better understand these accidents, AAA analyzed the NHTSA's National Automotive Sampling System (NASS) Pedestrian Crash Data Study (PCDS) from 2008. Through this information, the Foundation discovered what kinds of factors play a role in the risk of injury and death in a pedestrian accident. AAA also compiled a number of different ways in which the risks of these accidents can be decreased.
The AAA Foundation discovered that the vehicle is traveling at the time of impact has a direct impact on the risks that a pedestrian faces for injury or death. According to the report's data, a pedestrian that is hit by a vehicle that is traveling at 16 mph has a 10 percent chance of sustaining serious injuries, 23 mph at a 25 percent chance, 31 mph for a 50 percent chance, 39 mph at a 75 percent chance and 46 mph at a 90 percent chance.
The risk for death also increases as the speed of the vehicle increases. A pedestrian faces a 10 percent risk of death when a vehicle traveling at 23 mph strikes, a 25 percent chance at 32 mph, a 50 percent chance at 42 mph, a 75 percent chance at 50 mph and 90 percent chance at 58 mph.
These risks also vary when the age of the pedestrian is factored in. For example, when a 70-year-old pedestrian is hit by a vehicle that's traveling at 25 mph, they face the same risks as a 30-year-old pedestrian that is hit by a vehicle that is traveling at the same speed.
According to Transportation for America, there were nearly 2,000 pedestrians killed while walking in Georgia from 2000 to 2009. These accidents totaled costs of nearly $7 billion. Georgia has ranked 10th out of all 50 states for having the most dangerous roadways for pedestrians.
To help reduce these accidents, AAA recommends the following:
Transportation officials should reduce speed limits in areas where high volumes of pedestrians can be found.
If speed limits cannot be reduced because of the high demand for fast-traveling roadways, transportation officials should create a physical barrier between vehicular traffic and pedestrians.
Vehicle technicians are urged to create a better passenger-detection system that will help to alert a driver or stop the vehicle automatically if a passenger comes dangerously close.
If you or a loved one has been injured in an accident, contact the North Georgia Personal Injury Attorneys at The Law Office of Casey W. Stevens. Call 877-217-7230 for a free case evaluation. Serving all of North Georgia, including Dawsonville, Suwanee, and Woodstock.
Additional Resource
Sandy Springs pedestrian hit, killed by car on Roswell Road, by Elizabeth Klynstra, CBS Atlanta