Nursing Home Abuse Attorney
Nursing Home Abuse Attorney - Alpharetta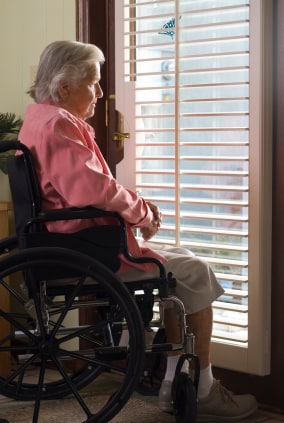 The difficult decision of placing an aging relative in a nursing home facility is done with care, because we want to make certain that our parent, grandparent, aunt or uncle will be safe and comfortable. Even after doing the most extensive research, sometimes the nursing home staff can let their residents down. Finding out that a loved one has suffered an injury because of the neglect or negligence of a nursing aid or other health care professional can leave a family feeling guilty and helpless. While nursing homes are heavily regulated by state and federal governments, staffing concerns often lead to serious conditions. "The resident has the right to be free from physical, verbal, sexual, and mental abuse, corporal punishment, and involuntary seclusion."
At the Law Office of Casey W. Stevens, in Atlanta, Alpharetta, Canton, Woodstock, Suwanee and Dawsonville, Georgia, we assist clients with personal injury cases involving nursing home injury or abuse. If a family member has been injured while in the care of a nursing home, contact our office today to speak with an attorney about getting the legal assistance you need. 770-408-6364
Nursing Home Negligence
Our attorneys have obtained compensation for families whose loved ones have suffered from the following:
Bedsores, pressure sores or pressure ulcers occur when a resident is left lying in their bed too long. Typical locations include the back of the head, shoulders, tailbone, elbow and heels. Drop or fall accidents cause injuries when residents are not carefully assisted with the adequate number of qualified staff. Broken bones can happen for a number of reasons including falls. Poorly maintained facilities, including tripping hazards or wet floors, can lead to injuries.
Nursing home caregivers are often underpaid and underqualified to provide care to the elderly. Working with the elderly is often frustrating, as some residents may be uncooperative or have difficulties communicating. This often results in neglect or abuse. Ask the caregiver direct questions they should know the answer to, such as how well your loved one is eating, or what time they are administered their medications.
Many of the calls we receive from families are due to the mismanagement of their loved-one's medications. Providing the proper medication to the right resident in the correct dosage at the right time is imperative to a thriving life. Malnutrition is more common than you think in elder care facilities. As the elderly activity levels decline, often so does their appetite. An experienced nursing home staff should monitor the food intake of their residents and ensure the medical staff is aware of any changes in eating patterns or energy. Dehydration causing low blood pressure, disorientation, exhaustion and troubles using the rest room are signs of possible problems. Often medications can bring on dehydration, and elderly in a care center should have resident's hydration levels monitored.
And finally, the elderly who are experiencing some form of dementia have the tendency to wander off and get lost or worse. Nursing care facilities are paid to ensure the safety and security of your loved one.
Nursing Home Abuse
Improper monitoring or supervision of nursing home occupants happens because of either understaffing issues or just plain mis-management of the facility. This is when abuse happens or mistakes happen. Abuse can be verbal or physical – even financial or sexual. If your loved one has unusual bruises, has a broken limb or shows any sign of abuse, contact our firm immediately.
Sexual abuse occurs in nursing facilities not only by staff, but by other residents. The elderly should be protected from predators either way.
Financial abuse is also not uncommon. Take extra care to ensure you protect your loved one's assets. Look out for any changes in the elderly person's financial situation, including missing cash and personal items, changes in power of attorney, life insurance policies, titles or will, unexplained withdraws from bank accounts, lack of items the caregiver was paid to provide, or unexplained credit card charges.
If you or your loved one has suffered injuries, neglect or abuse in a nursing home, contact The Law Office of Casey W. Stevens, today. Call 770-408-6364 for a complimentary consultation. Visit us in one of our six Georgia locations, or we will come to you.