Workers' Compensation Attorney
Alpharetta Workers Compensation Lawyer
Work injury claims can be brought forth any time there is an injury obtained on a job. These injuries don't always have to result from things like working forklifts, vehicles, and other heavy machinery. They can also result from unsafe premises, slips and falls, and a spectrum of other things. You've come to the right place if you have been injured on the job and need assistance with your worker's compensation claim. The Law Office of Casey W. Stevens specializes in getting the most compensation available to you under the law for your injuries obtained while at work. We can help you navigate the complex process of workers' compensation insurance and ensure that you receive the benefits you deserve.
If you are having difficulty filing a claim or getting compensation after filing a claim, call us, and we will tell you if it is something you can handle on your own, or will need the assistance of an experienced Alpharetta Workers' Compensation Lawyer.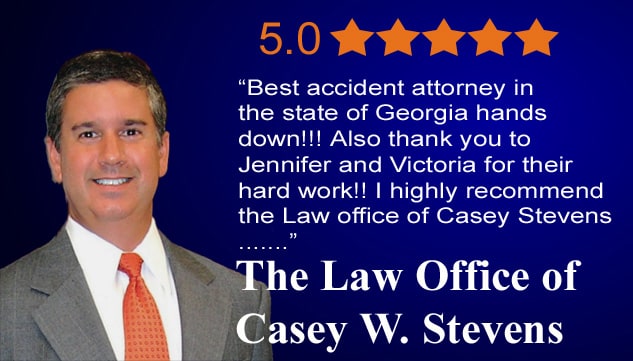 What Are the Georgia Worker's Compensation Laws?
Georgia workers' compensation laws can be complicated. In 1920 the Georgia Workers' Compensation Act was passed into law. At that time, the act was considered to be "elective," meaning employers were not required by law to have it. This was the first law that provided the ability of employers to provide coverage against lawsuits brought forth by employees who were injured on the job. In 1972 Workers' Compensation Coverage is offered by insurance companies, and became mandatory for all employers with 3 or more full or part-time employees who worked mainly for a single employer in the United States. In 1975 and 1985 the Act was expanded to require coverage for the vocational and medical rehabilitation of injured employees. In 1992, the Act was revised to state that in the event of a catastrophic injury, the employer has 48 hours to provide a rehabilitation supplier after accepting a claim as a compensable injury. Understanding the importance of occupational safety and health administration is crucial for employers to provide a safe working environment for their employees and to avoid workplace injuries. Certain types of jobs are not covered, such as real estate salespeople, domestic workers, railroad workers, and farm laborers. Today's Workers' Compensation Law requires employers to provide coverage for workers' comp to compensate them in the case of work-related injuries, illnesses, or death. Failure to maintain coverage for employees is merely a misdemeanor, so check with the State Board of Workers' Compensation to ensure your employer has the required eligibility coverage.
What is the Best Way to Handle a Worker's Compensation Case?
The best way to handle a worker's compensation case is by hiring an experienced lawyer who specializes in this area of law. They can guide you through the process, ensure you receive fair compensation, and protect your rights as an employee.
The Georgia State Board of Workers' Compensation administers the Act. The Governor of the State of Georgia appoints three board members to four-year terms. These board members (also called directors) have the responsibility of conducting hearings to determine if the injuries are compensable, how much the claimant should be awarded, and monitoring all claims for the accuracy of payments during the duration of the claim. They also have the authority to hear fraud cases and levy fines against employees, employers/insurers, and medical providers for violation of the Act. Consultations with the board members can be arranged for further clarification on the Act and its provisions, including OSHA regulations.
Georgia Workers' Compensation Coverage provisions change every year or two. As of 7/2022, below are the workers' compensation laws coverage standards for workers' compensation coverage.
How Much Can I Get for Worker's Compensation Using a Work Comp Law Firm?
If your injury occurred after July 1, 1992, you are eligible for benefits up to 400 weeks. In cases of permanent disability, the benefits (including death benefits) may continue 400 weeks beyond any workers' compensation claim.
Types of Disability
There are four types of disability according to the Act, total disability, temporary partial disability, permanent partial disability, and catastrophic disability such as a permanent brain injury. Each of these categories has different standards of compensation for work injuries. Your treating physician will determine the extent of your disability using an evaluation guide published by the American Medical Association.
Total Disability
Total Disability is a disability that does not allow the employee to return to work at all during the recovery period, such as multiple broken bones or burns, but is not permanent (see catastrophic disability). If your accident occurred after July 1, 2022, Total Disability has a weekly maximum benefit of two-thirds of your average weekly pay, but no more than $725.00 per week for a maximum of 400 weeks unless your injuries are re-defined as catastrophic. It has a required waiting period of 7 days before a comp claim can be filed, however, the injured worker applicant can recover up to 21 days of compensation from the waiting period, once the claim is approved.
Temporary Partial Disability
Minor injuries such as broken bones or sprains fall into this category. The medical benefits of this type of disability, and medical treatment, can be crucial for individuals who need financial assistance while recovering from an injury or illness. You must be out of work for at least seven days to file a claim, but if you are out of work for more than 21 days, you will receive compensation for the first seven days until termination of benefits. Same as above, Temporary Partial Disability claimants can receive 2/3 of their average weekly pay, up to $725.00 per week for a maximum of 400 weeks.
Permanent Partial Disability
Permanent Partial Disability also has a maximum benefit of two-thirds of your average weekly pay, but no more than $725.00 per week for up to 400 weeks. However, if you can return to work, but at a job that pays less because of your disability, your benefit will be reduced based upon the amount of your average earnings pre and post-injury for a maximum of 350 weeks from the date of injury. This benefit will not exceed $483.00 per week if your accident occurred on or after July 1, 2022.
The number of weeks a claimant can collect benefits is determined by the type of injury. For instance, the loss of an index finger provides 40 weeks of disability benefits coverage, while the loss of a hand provides 160 weeks of coverage and an arm 225 weeks.
Catastrophic Coverage
There is no limit to the number of weeks a claimant can be compensated under the Total Disability Code which includes things like paralysis, traumatic brain injuries, and wrongful death. For example, catastrophic coverage is awarded when medical professionals deem the injured party cannot perform daily things like dressing, eating, or toileting on their own. Other factors weigh into what a claimant's total compensation will be, including medical payments, number of dependents, and mileage paid to seek treatment. For more information on how to achieve maximum compensation for your workers' compensation claim, contact the Law Office of Casey W. Stevens for a complimentary case evaluation. 770-408-6364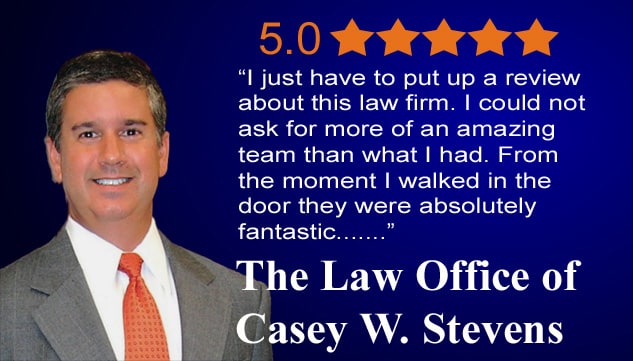 Can I Lose My Job If I Make a Work Comp Claim?
If, as a result of your workplace accident claim, you feel you are being threatened or are at risk of losing your job, legal assistance for your legal rights is recommended. You might also need assistance if you are not sure of your rights under state laws, you are not sure how to file a claim or don't know how to ensure you will be receiving the maximum compensation you are due. Finally, if your claim was denied, seeking expert legal advice is important.
Visit us at our Alpharetta Workers' Compensation Law Firm, one of our North Georgia Offices, or we'll come to you!
At the Law Office of Casey W. Stevens, we understand that travel is not always easy after an injury, so we often meet our clients at their homes or medical facility. Once we evaluate your work-related accident case and get to work, you can sit back and focus on healing. Our attorneys realize many clients don't have the luxury of waiting months to receive workers' compensation benefits. The benefit of working with an experienced attorney is that your claim will be settled as fast as possible, and your compensation will be on its way more quickly than if you try to navigate the process on your own, especially if the claim is initially denied. We also understand the importance of medical care during this time and will work with you to ensure you receive the necessary medical attention.
If you need help with your worker's compensation claim, contact The Law Office of Casey W. Stevens, work injury attorney, today, and we can help.
If you've suffered any sort of injury on the job and need help getting compensation for medical bills and lost wages, contact The Law Office of Casey W. Stevens today for a free initial consultation on resolving your workers' comp claim with a North Georgia / Alpharetta workers' compensation attorney. If you prefer a face-to-face meeting, you can visit us at our Roswell - Alpharetta, Atlanta, Dawsonville, Woodstock, or Suwanee Georgia locations, or we will come to you at your home, office, medical facility, or via Zoom. 770-408-6364