GDOT Warning: Wintery Weather and Increased Risks for Car Accident in Northern Georgia
According to the Georgia Department of Transportation (GDOT), drivers throughout the northern portion of the state are urged to be cautious as winter weather conditions permeate our roadways. Parts of the state are expected to experience some snowy and icy conditions through the remainder of the winter season. Snowy and icy roadways greatly increase drivers' risks of getting into a potentially fatal car accident in Northern Georgia. Drivers are asked to be cautious when driving through the wicked winter weather. If at all possible, avoid driving through these conditions. But if driving is a must, please do so carefully and cautiously.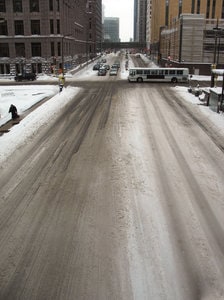 "We are continuously monitoring the weather and the forecast as winter weather is predicted. Snow, black ice and fallen trees are possible," said Kent Sager, district engineer at the DOT office in Cartersville.
Our Atlanta car accident attorneys understand that some areas of the state are more susceptible than others to dangerous winter weather driving conditions. We would like to ask drivers to beware of black ice around bridges. It is in these areas that black ice forms before any other area. Not only does it form near and on bridges first, but it does so quickly. Drivers are asked to slow down their speed while driving through these areas and to allow plenty of distance between their vehicle and the vehicles of others. Drivers need more time to react on snowy and icy roadways that they do on normal, dry roadways. Please be safe and cautious out there.
Areas Likely to Experience Dangerous Winter Driving Conditions, Areas With High Elevations or Gaps in:
Whitfield County
White County
Walker County
Union County
Towns County
Murray County
Lumpkin County
Gilmer County
Floyd County
Fannin County
Dawson County
Dade County
Chattooga County
Catoosa County
The drought has caused trees to fall and root systems to weaken and the high winds of the winter season are expected to blow some of these trees around. For this reason, drivers are urged to be cautious when driving near areas with dense trees. These things can easily be blown into the roadway and can also knock down traffic signals and power lines. Keep an eye on your entire surroundings, not just the roadway.
DOT officials always have an eye on the weather conditions and are ready to respond to help fix dangerous roadway conditions if needed. DOT officials release their emergency response vessels upon indication from the National Weather Service and from local law enforcement.
Motorists are asked to check out the latest road and traffic conditions on the NaviGator 511 website of GDOT. If weather is shoddy, drivers are asked to stay off of the roadways. If travel is necessary, we ask that drivers alter their driving habits to accommodate the current weather conditions. Extra focus, attention and safety is needed when driving along snowy or icy roadway. Be safe out there and keep safety as a number on priority.
If you or someone in your family has been injured in a car accident in Atlanta or elsewhere throughout Georgia, the North Georgia Personal Injury Attorneys at The Law Office of Casey W. Stevens are available to discuss your rights. Call 877-217-7230 for a free case evaluation. Representing clients in Atlanta, Alpharetta, Woodstock and all of North Georgia.
Additional Resources
Fan killed in RV accident was injured in previous road trip, by Carl Willis, WSBTV2