Golf Cart Accidents on the Rise in Georgia
If you think you cannot be injured while driving or riding on a golf cart, think again. According to The New York Times, golf cart accidents and injuries are on the rise. In recent years, golf carts have become more powerful and faster with an ability to reach speeds of 25 miles per hour. Since golf carts are moving off golf courses and onto local roadways and are being used more frequently at airports, sporting events, colleges, and retirement communities, there has been a surge of golf cart related injuries since 1990. In fact, many of those golf cart injuries and accidents occur in the state of Georgia, and result in catastrophic injuries and fatalities.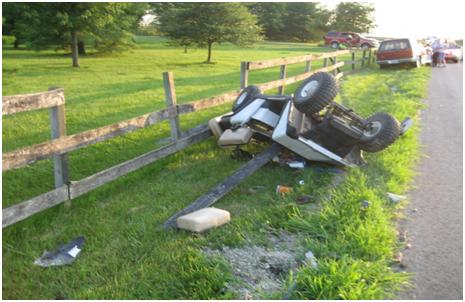 In 2011, under Georgia Senate Bill 240, golf carts were assigned a new separate class of motor vehicles. This "reassignment" allows golf carts with some safety features capable of driving up to 20 miles per hour on the roads as long as local jurisdictions permit. The new law went into effect January 2012, and there is now an increased potential for golf carts to come in contact with larger vehicles on local Georgia roadways. About 15 percent of golf cart accidents occur on streets, and golf cart street accidents cause injuries that are more likely to result in concussions, disfigurement, hospitalization, and even wrongful death.
Injuries from golf cart accidents can be shockingly severe: a golf cart injury lawsuit for $5 million in damages was settled in Vermont recently. Back in 2006, a middle-aged gentleman was injured when he was thrown from a golf cart at a raceway and sustained a traumatic brain injury, and as of today, he still has difficulty completing basic daily activities. In Tennessee, one teen was killed and three other teens were hospitalized when the right rear tire of their golf cart blew out while going down a hill; the golf cart went into a spin, smashed into a brick mailbox and rolled. In Alabama, a teenage male was a passenger in a golf cart, and when the driver took a sharp turn, the golf cart flipped over. When interviewed post-accident, the teen said, "It was really good that I had my seat belt on because if I hadn't, I probably would have broken a few limbs or maybe even worse."
How to Stay Safe While Operating and Riding in Golf Carts
Below are some tips on how to stay safe while operating and riding in a golf carts. The number one rule is common sense--if you wouldn't drive your vehicle the way you are attempting to drive the golf cart, don't do it.
Check the golf cart's tires, horn, brakes, battery, and lights before use.
Make sure everyone is wearing a seatbelt (if the cart has them) and remains seated while moving. Do not exceed the passenger limits of the cart.
When backing up, check the area behind the golf cart for vehicles and pedestrians.
Slow down in wet conditions, on steep inclines, when turning corners, at intersections, and for speed bumps, and uneven pavement. Stay off curbs and pedestrian walkways.
Do not driver faster than the pace of a brisk walk.
To avoid tipping, do not drive a golf cart at an angle down a hill.
When parking, ensure the brake is set, shift the gear to neutral, and remove the key.
Most importantly, don't drive while distracted or while intoxicated. This includes eating, texting and driving, and talking on a cell phone.
If you or a family member has been injured in an Atlanta or North Georgia golf cart accident, contact the North Georgia Personal Injury Attorneys at The Law Office of Casey W. Stevens. Call 770-408-6364 for a free case evaluation. Representing clients in Atlanta, Alpharetta, Cumming, Suwanee, Woodstock and all of North Georgia.
Additional Resources
WSMV.com: Children injured in accident involving golf cart