Woman Killed in Georgia Trucking Accident
A dump truck struck a passenger vehicle recently, claiming the life of a woman in a Georgia trucking accident. According to police officers, the dump truck was traveling west on Mercer University Drive in the right lane when a passenger vehicle took a left into the path of the dump truck. The driver of the truck allegedly attempted to avoid the passenger vehicle but was unable to do so. The truck hit the car on the passenger side and pushed push it westbound into a vehicle waiting to turn right from Burton Avenue onto Mercer University Drive, according to Macon.com.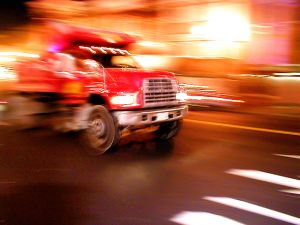 The dump truck overturned and struck a utility pole. Traffic signals and a street sign were knocked to the ground, leaving other lines suspended from the top of the pole. A fire hydrant was also knocked over in the commotion. The dump truck spilled its load. Bibb County Coroner Leon Jones reports that the car's driver was pronounced dead at the scene.
Our Georgia trucking accident attorneys understand how catastrophic these accidents can be. A number of roads near that intersection were closed for quite some time. Traffic lights were out on Mercer University Drive near Macon Mall between Bloomfield and Anthony roads because of the accident. Substantial property damage is a given and motorists and pedestrians are oftentimes killed in traffic collisions with these big rigs.
According to the National Highway Traffic Safety Administration, there were approximately 380,000 large trucks on U.S. roadways that were involved in a traffic accident in 2008. A large truck is defined as a vehicle having a gross vehicle weight rating greater than 10,000 pounds. More than 4,000 large trucks were involved in traffic accidents that resulted in death. A total of 4,229 people died. These fatalities counted for more than 20 percent of all traffic deaths reported for the entire year. Another 90,000 people sustained injuries from these incidents.
In 2008, these large trucks were more than three times more likely than other vehicles to be struck in the back in two-vehicle fatal crashes. Of all of the accidents involving large trucks during that year, 74 percent of the fatalities occurred to occupants of another vehicle, 10 percent were nonoccupants and 16 percent were occupants of a large truck.
Nearly 200 people in Georgia died because of traffic accidents that involved a large truck in 2008.

Safety tips for motorists traveling around trucks, provided by the Federal Motor Carrier Safety Administration:
Never cut in front of a large truck. Trucks take much longer to stop than passenger vehicles.
Stay out of a truck's blind spots. This is the area around the back and sides of the truck, in which a trucker is not able to see you. If you can't see the truck driver, they can't see you.
Always abide by all traffic laws and make your maneuvers around trucks noticeable.
Wear your seat belt. A seat belt is your best protection in the event of an accident.
Don't try to squeeze in by a truck making a wide right turn. Truck drivers often need to swing wide to the left in order to safely make a right turn. Squeezing in can cause you to become entrapped in that area and become the victim of an accident.
If you or a loved one has been injured in a car accident with a truck, contact the Atlanta Personal Injury Attorneys at The Law Office of Casey W. Stevens. Call 877-217-7230 for a free case evaluation.