What Causes a Deck to Collapse? - When an Owner is Liable in Georgia
Enjoying a backyard barbeque on a deck is a staple of Southern life in Georgia. But without proper maintenance, a deck can be a dangerous and sometimes deadly thing. Especially if that deck was built by you and your brother-in-law from plans you found on the internet. And also if neither of you have any knowledge of the codes that are in place to protect you or any guests who may venture out onto that deck for a hotdog.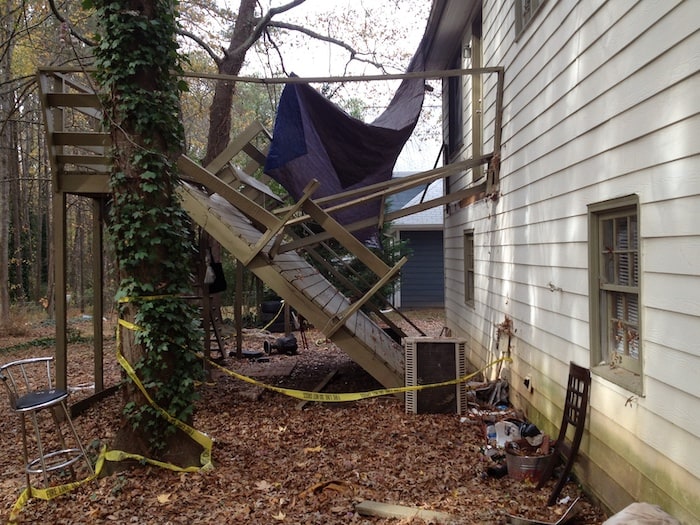 Should You be Concerned About Hanging out on Someone's Deck?
Yes. According to Atlanta area personal injury lawyer Casey W. Stevens, deck collapses are becoming a more common occurrence for several reasons. First, decks are popular in cities, suburbs and rural houses and businesses, and in every climate and region of the United States - they are, quite literally, everywhere. Some of these structures are aging without being properly inspected and maintained and others are being put up or added onto without regard to building codes.
So how can a Home or Business Owner Ensure Their Guests are Safe on Their Deck?
The proper maintenance of a deck includes tightening or replacing loose screws and bolts, removing splinters, sealing the wood against the elements to prevent rot and decay, reinforcing anchors and bolts that hold the deck to the permanent structure, and replacing warped or damaged boards. All of these things are the responsibility of the property owner.
In addition to properly maintaining the deck as it was initially constructed, any and all additions must be constructed in adherence to all state specific building codes. The common additions of built-in seating along the railing, planters, and additional levels all add to the structure's weight. There are codes in place to ensure that a structure remain solid and can handle the additional weight of these items. In some cases, property owners have enclosed a deck or porch without consulting a licensed contractor or obtaining the proper permits. The initial structure was never designed to be a room of its own and can collapse under the additional weight.
If a deck was built by a licensed contractor or builder and a collapse occurs, then the builder can be held liable for the structure's failing if it happens within 8 years of being built. There have been cases where a homeowner was injured in the collapse of their own deck and successfully recovered damages from the contractor who built the deck for them.
Another reason that decks commonly collapse is overcrowding. We've all seen stories on the news about how a deck or balcony collapsed because there were too many people on it. In most cases, the number was ridiculously high - a 10 X 10 deck with 75 people standing or dancing on it, for example; however, an improperly maintained or unsafely built deck can collapse from a much smaller crowd.
So who is at Fault When a Deck Collapses?
This is a tricky question and should be replaced with "Who is LIABLE when a deck collapses?" If 75 people all cram onto a 10 X 10 deck that is 15 feet off of the ground, then they are, technically speaking, the ones at fault for overcrowding the deck, but the property owner could still be liable for not preventing the overcrowding from happening. In fact, it is not unusual for a business with a deck to have an employee stationed at the deck entrance to keep count of the number of patrons who are occupying the space at any given time in an attempt to keep their patrons safe from injury and themselves protected in case of a lawsuit. A deck may be built to code but still collapse because it was built with faulty materials. Liability is not always easy to determine, and a qualified personal injury attorney is your best bet for recovering damages in a deck collapse case.
What Should You do if You are the Victim of Deck Collapse?
If you or a loved one has been a victim of a deck collapse, there are several steps that you need to take. First, visit a doctor and have a thorough examination. In addition to broken bones and scrapes and bruises, there could be minor head trauma (or closed head injury), and other internal injuries. Once any immediate medical needs have been addressed, you should contact a qualified personal injury attorney. Evidence in these cases can disappear quickly - the collapsed structure can be disposed of, repairs can be made, and other victims can agree to settlement terms that may recover the damages that they incurred in the collapse but restrict them from aiding in any case that you might intend to bring to cover your own losses. An attorney can stop the property owner from making repairs or disposing of the collapsed structure before it can be examined for anything that may have caused or contributed to the collapse. An attorney can properly evaluate the facts of the case to be sure that the responsible party is held liable. A deck may collapse because of poor construction, faulty materials, improper maintenance, overcrowding, or a combination of several different factors. The liability may lie with more than one party and an attorney who is experienced and knowledgeable in these types of cases can navigate you through the process. If at all possible, take photos of the collapsed structure immediately after it occurs. Your attorney can use those photos to aid in your case.
Personal injury lawyer Casey W. Stevens specializes in recovering compensation for deck collapse victims throughout Atlanta and all of North Georgia. If you have been injured in a deck collapse, call the Law Office of Casey W. Stevens for a free consultation. We can meet with you in our main office in Alpharetta, Georgia, or in one of our satellite offices located in Roswell / Atlanta / Dunwoody, Suwanee / Buford / Lawrenceville / Duluth, Cumming / Dawsonville / Buford, or in Woodstock / Marietta. You come to us, or we'll come to you!
Call 770-408-6364 for your free consultation.