UGA Player's Scooter Accident Highlights Risks of Motorcycle and Bicycle Accidents in Atlanta, elsewhere
The injury of a University of Georgia defensive end in a Georgia scooter accident highlights the risk of motorcycle accidents in Atlanta and elsewhere this summer.
The Atlanta Journal-Constitution reports Derrick Lott will miss 4 to 6 weeks after injuring his leg in the scooter accident. No citations were issued. Two years ago, the team lost Chance Veazey after he was paralyzed from the waist down in a car accident.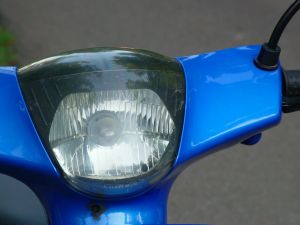 Motorcycle accident lawyers in Woodstock, Atlanta, and elsewhere in Georgia understand this is the deadliest time of year for motorcycle accidents. Scooters are no safer. In fact, while marketed as fun toys, scooters are every bit as deadly as motorcycles -- even more so when riders fail to get the proper training or motorists fail to yield the right of way or give riders the respect they need and deserve to stay safe on the road.
The National Highway Traffic Safety Administration reports Georgia motorcycle accidents claimed 166 lives in 2008. Only Florida, California, Texas and New York reported more rider deaths.
The Consumer Product Safety Commission reports the number of scooter accidents in Georgia and elsewhere has increased dramatically in the last decade. The government safety agency estimates more than 40,000 riders a year are treated in hospital emergency rooms for scooter related injuries. Broken bones are the most common injuries.
Judging by the statistics, one thing is certain: Riding two wheels is risky business. Bicycle accidents in Georgia claimed 29 lives in 2009. Only five other states had more deaths.
These accidents are so dangerous because the riders are so vulnerable. Broken bones, road rash and burns are common. Bicycle, scooter and motorcycle accidents in Georgia and elsewhere may also lead to very serious, debilitating injuries, including traumatic brain injury and spinal cord injuries. The typical cycling accident victim is a middle-aged man; the same is often true of those injured in motorcycle accidents. Often, the victim is a family's primary wage earner, which can have a devastating impact on family finances.
Two-wheel safety tips include:
Always wear safety gear.
Never drink and ride.
Know the law.
Be a defensive rider.
Wear bright or reflective clothing.
Know riding at dawn, dusk or night may be illegal, and is the most dangerous.
Yield the right of way -- even if you are right it can keep you safe.
Use caution when moving between parked cars or from a parking lot or private drive.
Never ride on the sidewalk -- always ride with the flow of traffic.
Understand riding in wet weather increases your risk of an accident.
Stunts, jumps and wheelies are dangerous and may be illegal.
Respect the rights of other motorists on the road.
Maintain the proper speed for traffic, road and weather conditions.
If you are injured in an accident, contact the North Georgia Personal Injury Attorneys at The Law Office of Casey W. Stevens. Call 877-217-7230 for a free case evaluation.