Trucking Accidents in the State of Georgia
A big-rig, semi, or tractor trailer truck is dangerous for three main reasons - size, speed, and driver culpability. Trucking companies, and companies that hire them for deliveries, often pressure drivers to be as fast as possible, This often results in truck drivers causing serious and sometimes fatal accidents. According to the National Transportation Safety Board, 500,000 trucking accidents occur across the United States each year and approximately 5,000 of those are fatal. Nationwide, one out of every eight fatal vehicle accidents is caused by a semi-truck. Georgia, sadly, ranks among the top 5 states for fatal truck accidents. This is due to the fact that the state is a major transportation hub for many national and international companies, and interstates and truck routes crisscross the state. In the state of Georgia, there are approximately 5,000 trucking accidents every year, and on average, 200 of the accidents involve at least one fatality. Unfortunately, one of those fatalities occurred last Friday morning in Marietta on Cobb Parkway. Another fatal trucking accident occurred Sunday night on I-285 just south of the Campbellton Road exit.
Mahmoud Dabdoub, a 49 year-old, was on his way to work in his 2006 Chevrolet van around 7:15am Friday morning, when 47-year old James David Rast, Jr. pulled the 2013 Freightliner tractor trailer that belonged to the Western Express Freight Line out onto Cobb Parkway after stopping at the stop sign at Industrial Park drive. The Florida truck driver failed to yield to Dabdoub, and the van collided with the semi and caught fire. Mr. Dabdoub was killed, and Mr. Rast was arrested. While it was unclear if alcohol or drugs were involved, officer Michael Gardner of the Marietta Police Department said that Rast was transported to the hospital where he underwent a blood alcohol test as is required by law whenever a commercial vehicle is involved in an accident. Marietta Police Department's Selective Traffic Enforcement Program (STEPS) is currently investigating, but Rast was charged with failure to yield and second-degree vehicular homicide. He is being held on $250,000 bond at the Cobb County Adult Detention Center. Mr. Rast's arrest was of little comfort to the family of Mahmoud Dabdoub who had lost a daughter in a similar accident in 2001.
On Sunday night at 9 p.m., a sedan that was traveling southbound on I-285 just south of the Campbellton Road exit when it left the roadway.
After striking the right guardrail, the sedan slid back onto the highway and was struck by a pickup truck. The impact caused the sedan to catch fire. A tractor trailer, trying to avoid the accident, was forced off of the road, and into a ditch.. The driver of the sedan perished at the scene, and the car's passenger was transported to the hospital in critical condition.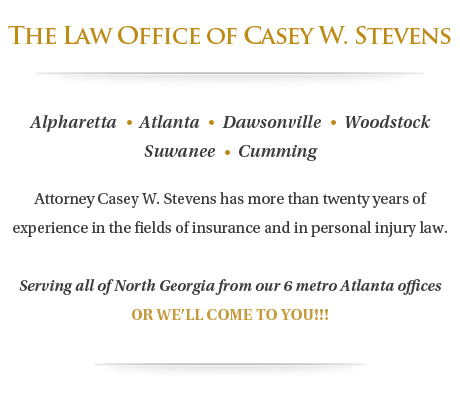 Call Today for a Free Consultation - 770-408-6364