SUV Car Accident in Georgia Kills Infant, Injures 6
A car accident in Georgia involving two Sport Utility Vehicles (SUVs) injured six motorists and killed an infant, according to Georgia State Patrol.
The accident happened Sunday night at approximately 7:30 p.m. in Washington County at New Road and Henderson Grove Road, reports the 13WMAZ.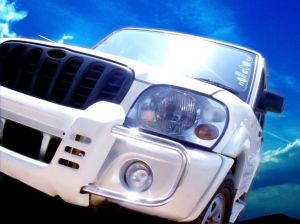 An SUV traveled into the path of a second SUV, causing one to overturn and land on its side. The 4-month-old died at the scene of the accident. Six other vehicle occupants were taken to the hospital. The state patrol is still investigating the accident. Charges are currently pending.
Our Atlanta car accident attorneys recognize that occupants of SUVs are among the least likely to die in a traffic accident, according to recent studies. Occupants of an SUV are much safer than those in small cars, according to USA Today. Although SUVs can be more expensive and can guzzle more gas, they can save your life. This hasn't always been the case; rollover risks used to outweigh the benefits of an SUV's larger size. Traction control and other technological advancements have largely mitigated those risks.
The improvement in passenger safety can be largely credited to the installation of electronic stability control, according to the Insurance Institute for Highway Safety (IIHS). Stability control allows the vehicle to use its brake and engine power to keep the vehicle on the roadway. It's no surprise that this technology was introduced more quickly on SUVs rather than on smaller vehicles, since SUVs used to have a much higher rollover rate.
A recent report, released by IIHS looks specifically at the death rates for drivers of 2001 to 2004 model year vehicles that were involved in accidents from 2002 through 2005.
"One thing we know is improving the safety of SUVs is electronic stability control," says Russ Rader, spokesman for the IIHS "ESC is the most important safety feature most people have never heard of."
Since the installation of the electronic stability control, the death rate for SUV drivers has fallen nearly 70 percent. SUVs used to have a death rate of 82 per million vehicles for 1999-2002 models, now they have a death rate of 28 per million.
Still, nearly 20 percent of 2009 vehicle deaths involved rollover and no other significant impact. More than 50 percent of all single-vehicle accident deaths involved rollover.
"It's a dramatic change and a testament to the incredible effectiveness of electronic stability control," says Anne McCartt, the Institute's Senior Vice President for Research.
This hasn't been good news to all, especially to drivers of small cars. Smaller vehicles have become much more popular because of high gas prices. The death rate for drivers of small, four-door cars is currently at 72 per million vehicles for the 2005-2008 models. These drivers only saw a 35 percent reduction from 110 per million in 1999-2002 models.
"The rollover risk in SUVs used to outweigh their size/weight advantage, but that's no longer the case," says McCartt.
There were about 11.5 million vehicles sold in 2010. Nearly 6 million were vans, SUVs or pickups and just over 5.5 million were cars.
If you are injured in a vehicle accident, contact the North Georgia Personal Injury Attorneys at The Law Office of Casey W. Stevens. Call 877-217-7230 for a free case evaluation.