North Georgia Child Injury a Halloween Risk
Before children suit up and hit the neighborhoods in search of tricks and treats this Halloween, parents are urged discuss with them the dangers they face on this spooky night. Crime Stoppers Atlanta and our personal injury attorneys are here to share a few simple safety tips that can help to keep your little ghosts and goblins safe on the 31st.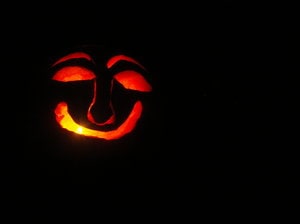 The ghoulish holiday brings about serious risks for mischievous behavior. Government statistics show child injury is four times more likely to occur on Halloween night. Pedestrian accidents and falls are the most common causes.
Halloween Safety Tips
Young children should always be supervised by a responsible adult.
Plan out a safe trick-or-treating route before heading out. Make sure that you plan a trip that is away from lots of traffic and has safe sidewalks and roadways.
Older children who can trick-or-treat alone should have a set curfew, a watch and a cell phone to use to check in with parents periodically.
Instruct you children to never go into a stranger's home or vehicle.
Children should carry a flashlight, glow stick or should have reflective tape on their costume to help make them more visible to passing motorists.
Make sure children have their name, address and emergency phone number information on them.
Make sure that children know to look both ways before crossing the street. Young vampires and zombies should keep looking left and right as they cross the road.
Only cross the street at crosswalks or at street corners.
Make sure all children are fed before going trick-or-treating. This will make them less likely to snack on candy before it has been inspected by a parent.
Inspect your child's candy once you get home. Toss out any candy that has been opened or looks like someone has tampered with it. You should also throw away any small, hard candy that could pose a choke hazard for a small child.
Parents are urged to check out Georgia's Bureau of Investigation Sex Offender Search website before heading out with little ones.
If you notice any spooky activity, you're urged to call local authorities immediately.
If you're staying home and passing out goods to the little witches and ghosts this year, considering handing out non-food items like pencils, spider rings, erasers or stickers.
Halloween can be a terrifying time for young children. According to CBS Atlanta and child psychologists, parents should help their young ones to interpret Halloween as just make-believe. This should help to scare away any monsters.
Be sure to show children that all the spooky monsters around the neighborhood are just people in masks. Illustrate how this works by showing them a mask on and off your face. Make light of the situation. If your young child thinks they're brave enough to take on the neighborhood in search of goodies, allow them to try on the costume beforehand so that they can get used to how they look.
If you are injured in an accident, contact the North Georgia personal injury attorneys at The Law Office of Casey W. Stevens. Call 877-217-7230 for a free case evaluation. Serving all of North Georgia, including Dawsonville, Suwanee, and Woodstock.