Jet Ski Accident Attorney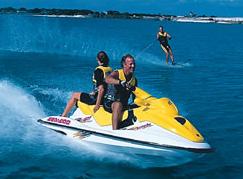 In the blink of an eye, a summer outing with family and friends at the lake or beach can turn disastrous and deadly. Personal Water Craft (PWC's) have gained popularity in recent years, and the number of jet skis registered has nearly doubled since 1980. In 2011, jet skis were the cause of 1,158 accidents and 44 deaths on the water, second only to open motorboats. Riding a jet ski can be a very exhilarating experience, but it can also be very dangerous. Accidents that involve jet skis are more likely to cause critical injuries such as traumatic brain injury and spinal cord injuries or fatalities, known legally as "wrongful death".
Lake Lanier Jet Ski Tragedy
A jet ski tragedy which made national headlines struck as recently as July 2012. Kyle Glover--the former stepson of R & B star Usher--and another 15 year old girl were run over by a jet ski while being pulled on an inner tube behind a pontoon boat on Lake Lanier north of Atlanta, Georgia. The two were airlifted to Children's Healthcare of Egelston Hospital in Atlanta with critical injuries. Tragically, upon arrival at the hospital, Kyle had no brain activity and was declared brain dead. The shocking part of this tragedy is that the jet ski that collided with the two youngsters was being operated by a family friend at the time of the accident.
This heart-wrenching accident has brought questions about jet ski safety into the forefront of the public media, and many are starting to question whether it is all too easy for an untrained person to climb aboard a jet ski and go flying recklessly through the water. Some safety advocates are now pushing for a separate license requirement for personal watercraft. One group that is speaking out is the National Association of State Boating Law Administrators; they are asking states to require all operators of personal watercraft to be at the minimum age of 16 and complete mandated PWC educational classes. Unfortunately, just like automobile accidents, age is a large factor in jet ski accidents.
Main Causes of Jet Ski Accidents
Driver Inexperience -There is a growing number of young inexperienced jet ski drivers who do not have as much experience as older drivers. The NTSB found that 32 percent of operators involved in jet ski accidents revealed that prior to the accident they had only operated a jet ski between zero and ten times.
Reckless Driving -Reckless driving encompasses behavior such as weaving through a congested area, driving fast near an anchored boat or civilians in the water, following too closely behind or alongside any boat, and jumping the wakes of a boat near other vessels.
Driver Inattention -The growing numbers of personal watercraft in the water have resulted more in congested waterways and increased hazards; therefore, drivers are adjured to exercise diligent attention and caution when operating any type of PWC.
Off Throttle Steering - Jet skis are thrust propelled which means that the throttle must be engaged in order to steer appropriately. Inexperienced and uneducated operators may not know that a jet ski cannot be steered correctly when not in the throttle.
Despite the warnings, jet ski accidents will continue to happen, on our Georgia lakes every year. If you or a loved one has been injured as a result of another person's negligence, contact our law firm today for a free consultation.
Free Consultations: 770-408-6364
Resources