Georgia Carnival Company Cited After Fatal Work Accident
A Georgia company has been fined after a work accident claimed the life of a Ferris wheel employee this spring. The News-Record reports Event Coordinators Inc, of Augusta, Ga., has been cited for 12 safety violations and fined $27,100.
A 42-year-old worker was killed after falling from the ride; another worker was injured as employees were taking the ride apart at the end of the festival. A cable failed while the ride was being disassembled. One employee fell 44 feet, while the other plummeted 28 feet. The department of labor noted a total of four employees, including both victims, were working without protective railings, eye protection or hard hats.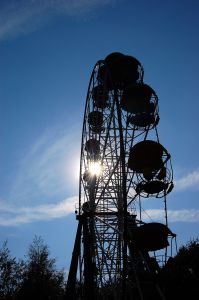 Workers' compensation lawyers throughout North Georgia understand falls continue to be a leading cause of work injury.
New statistics released by the U.S. Department of Labor show falls caused 635 of the nation's 4,547 fatal work accidents last year. In Georgia, fall accidents at work claimed the lives of 15 employees.
The recession has resulted in fewer work accidents in Alpharetta and elsewhere. However, only 4 fewer employees died on the job last year, compared to 2009. Hours worked increased last year, after declines in both 2008 and 2009.
Leading Cause of Fatal Work Accidents
Transportation: 1,766 (18 in Georgia).
Assault/Violence: 808 (23 in Georgia).
Contact with Object: 732 (16 in Georgia).
Falls: 635 (15 in Georgia).
Exposure to harmful chemicals/environments: 409 (6 in Georgia).
Fires or Explosion: 187 (4 in Georgia).
The Deepwater Horizon explosion and the tragedy at the Upper Big Branch Mine led to a 74 percent increase in mining fatalities; however, fatalities in private construction dropped another 10 percent.
Fatal falls dropped 2 percent (from 645 to 635). Falls have declined 25 percent since reaching a high of 847 in 2007. Again, the downward trend is primarily a result of less construction. Construction falls are down 42 percent.
Meanwhile, fatal work accidents in transportation and warehousing resulted in 631 deaths, virtually unchanged from 2009. Professional and business services saw a 16 percent decline in fatalities while fatalities among government workers increased by 3 percent last year.
Accidents involving jobs in farming and agriculture continue to increase, up 9 percent last year. A total of 156 farm, fishery and forestry workers died on the job.
Thousands of workers are injured or killed on the job each year. Injured employees have the right to collect workers' compensation in most cases -- regardless of who was at fault in the accident. The benefits pay for medical care and lost wages. In other cases, a third-party liability suit may be brought against a property owner or negligent subcontractor. Such a personal injury or wrongful death lawsuit may recover damages above and beyond what's covered under Georgia workers' compensation law.
If you are injured in an accident, contact the North Georgia injury attorneys at The Law Office of Casey W. Stevens. Call 877-217-7230 for a free case evaluation. Representing all of North Georgia, including Dawsonville, Woodstock and Alpharetta.