Carnival's 'Triumph' Became a 3-Ring Circus
Personal Injury Lawyer Casey W. Stevens specializes in maritime accidents, including cruise ship injuries. We offer free consultations 770-408-6364.
It took months to save up for your dream vacation. You arrive at the port of call and board a ship that looks like a floating city. You fantasize about lounging on the deck with your umbrella drink and not a care in the world for 4 days of nothing but relaxation. At first, the midnight buffets and Vegas quality shows are amazing and you are having the time of your life. You disembark in in Cozumel, Mexico and then board the ship again for the trip home.
150 miles from Mexico, disaster strikes. You awake to thick black smoke and noxious fumes from an engine fire and are evacuated from your room in the middle of the night.

After that, things begin to go downhill very quickly.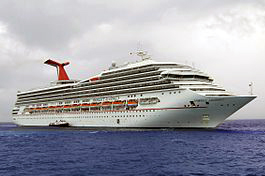 You learn that the fire has disabled the ship's engines and the floating city is now adrift in the ocean. There is almost no power, and no running water. Sewage begins to back up without the electricity needed to run the ship's sewage system. It floods the lower decks, dripping from the ceiling and down the walls. You are herded onto the upper decks, given a red biohazard bag to use as a toilet, and you find a corner of the ship's deck - away from the stench of raw sewage below - and wait for rescue.
Day after day of huddled masses on deck playing cards, charades, having Bible study - anything to distract from your current situation. No power and no plumbing means no showers and no hot food.
This cruise was scheduled for 4 days. The food supply is now running low and you must stand in line for as long as three hours just to get what food remains. Some passengers are hoarding food and you are reduced to eating ketchup on bread or an onion sandwiches. The sewage backup worsens and you and your 3,100 fellow passengers (and roughly 1,200 crew members) are forced to sleep on the floors of the upper hallways of the ship or in tents outside on deck made from bed sheets to escape the smell and limit your exposure to diseases like hepatitis and E. Coli carried by untreated human waste. The crew is trying to keep everyone's spirits up, but there isn't much they can do.
Tugboats arrive to tow you to the closest U.S. dock (returning to Mexico is not an option since not everyone on board has a valid passport) and the Coast Guard drops some supplies and provisions. But the progress is excruciatingly slow. Once they reach the narrow bay leading to the dock, the four little tug boats towing a floating city only average about 4 miles per hour. By the time you get to shore, it has been five days since you or your fellow passengers have bathed. Rather than furnishing you with a hotel room so that you can shower, change clothes, eat a hot meal, and sleep in a bed, the cruise line herds you all onto a fleet of buses to transport you to another destination closer to your port of call. You face hours on a bus with other dirty passengers, and then either must fly to your home, or drive in your own car that you left at the airport. If you refuse the immediate bus ride, then you are responsible for your own way home and whatever it costs to get there.
Sound Like fun?
This is exactly what happened to passengers of Carnival Cruise Lines ship Triumph that left Galveston, Texas on Thursday, the 7th for a 4 day cruise to Mexico and ended up in Mobile, AL late Thursday the 14th and the world was watching.
Opinions about cruise ships, the Carnival company, and what should be done were all over the news and social media. Many people believe that there will be lawsuits - both class action and individual to seek compensation beyond what the cruise line is offering. For the passengers on the Triumph, who spent days in what one doctor on board described as "a floating petri dish", Carnival will refund the cost of their cruise, issue vouchers for a free cruise, and give each passenger $500. Most people felt that it wasn't enough and that passengers should still sue.
Just recently on NBC's news program "Rock Center with Brian Williams," it was revealed that the Triumph was in a sense "out on bail." After another Carnival Cruise disaster, the Costa Concordia that ran aground in Italy in 2011 claiming the lives of 32 passengers, a lawsuit was filed on behalf of 100 of the cruise ship's passengers. Lawyers had the Triumph seized by U.S. Marshals because they suspected that it too was unsafe to be at sea, but Carnival paid $10 million to have it released, and the fire that broke out Sunday night seems to have proven that the ship was not seaworthy. Carnival admitted last week, that the Triumph had experienced "an electrical issue" on its previous voyage but issued a statement claiming that "There is no evidence at this time of any relationship between this previous issue and the fire that occurred on February 10th." It is a bold claim to make since the ship had not yet returned to port to be inspected and no official cause of the fire had been released. In the legal world, this means the ship was deemed to be an unsafe property.
Regardless, without evidence of serious injuries from the fire and the resulting days adrift in the ocean, the cruise line is well protected against legal repercussion. The "Ticket Contract" that passengers agree to when they purchase their cruise tickets is nearly ironclad, although most people do not even read it. In fact, the cruise line's offer of compensation to the passengers is beyond what the legalese document requires. So the questions remain - what is the legal recourse for the victims of the Triumph cruise? What could they ask for in terms of compensation? And how likely are they to receive a favorable outcome?
If you or someone you love has been injured or suffered emotional distress as the result of someone else's negligence, contact The Law Offices of Casey W. Stevens for a free case evaluation to learn your rights and explore your legal options.
Personal Injury Lawyer Casey W. Stevens specializes in maritime accidents, including cruise ship injuries. We offer free consultations 770-408-6364.
References
http://www.cnn.com/2013/02/14/travel/cruise-fires/index.html?iid=article_sidebar
http://www.cnn.com/2013/02/13/opinion/walker-cruise-ships/index.html?iid=article_sidebar
http://www.cnn.com/2013/02/14/travel/cruises-five-things/index.html?iid=article_sidebar
http://www.cnn.com/2013/02/14/travel/questions-cruise-passengers
http://www.carnival.com/CMS/Static_Templates/ticket_contract.aspx
http://www.foxnews.com/us/2013/02/15/stranded-carnival-cruise-expected-to-dock-in-alabama-after-four-days-with/
http://www.cnbc.com/id/100461957
http://www.nytimes.com/2013/02/16/us/carnival-cruise-line-ship-triumph.html?pagewanted=all&_r=0