Personal Injury Attorney - Canton, GA
If you've been injured due to someone else's negligence, an experienced Canton personal injury attorney is here to help. We understand the stress that comes from an injury after an accident, and we're dedicated to putting our nearly three decades of experience towards getting you the compensation you deserve.
We have a proven track record of success in handling a wide range of personal injury cases, from car accidents to slip and falls. We'll work tirelessly to investigate your case, gather evidence, and build a strong argument on your behalf.
At our firm, we believe in putting our clients first. That means providing personalized attention and compassionate support
Our Practice Areas
At the Canton Personal Injury Attorney Office of Casey W. Stevens we specialize in all accidents resulting in bodily injuries throughout Central and North Georgia. Call us today for a free consultation. Although we have offices throughout Georgia, if you can't come to us, we'll come to you. We provide complimentary case evaluations in person or via Zoom. If you need legal advice when dealing with insurance companies, we are one call away. Call us today if you have been injured in:
Car Accident
Truck Accident
Motorcycle Accident
Boat Accident
Cruise Ship Accident
Bus Accident
Uber or Lyft Accident
Pedestrian Accident
Golf Cart Accident
Personal Water Craft (PWC Accident)
Daycare Injuries or Negligence
Nursing Home Injuries or Negligence
Unsafe Products
Unsafe Property
Deck Collapse
Swimming Pool Drowning
Dog Bite
Slip or Trip and Fall
Construction Site Injuries
Wrongful Death
Medical Malpractice
Catastrophic Injuries
Burn Injuries
Workers' Compensation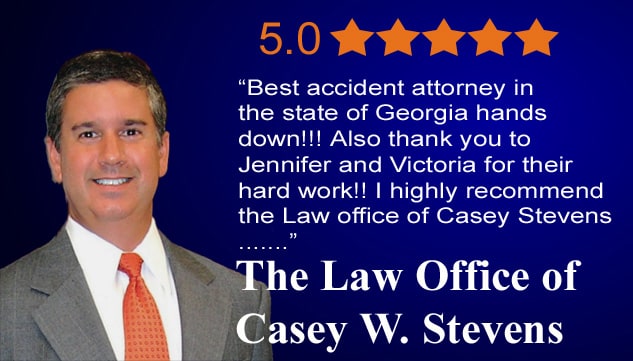 What Is a Personal Injury Attorney?
A personal injury attorney is a legal professional who specializes in representing individuals who have been injured due to the negligence, recklessness, or intentional actions of others. They are dedicated to helping their clients receive the compensation they deserve for their injuries, including medical bills, lost wages, and pain and suffering. Personal injury law is a specialty practice just like criminal defense and family law are.
Why Should I Hire a Canton Personal Injury Attorney?
Still on the fence about hiring a lawyer? Read on to discover the eight reasons why you should contact our Canton personal injury attorney firm right away.
There are many reasons to hire a personal injury lawyer, but here are the six most important ones:
A personal injury lawyer understands the laws in Title 9, Chapter 11, commonly known as the State of Georgia Civil Practice Act as it relates to plaintiff cases, including the statute of limitations to file a personal injury lawsuit.
We know that the defendant's insurance is not always the only place to look for recovery payments. Often there are third-party sources for compensation.
We can get you compensation for things above and beyond medical bills.
We can help you get the best medical attention and if you do not have insurance, can often get you medical treatment on a lien.
We submit extensive, comprehensive demand letters to insurance companies on the behalf of injured victims asking for settlement, then will negotiate, mediate or litigate your case.
And finally, we can negotiate your medical expenses on your behalf with providers.
Results and Experience Matter
Whether from a car accident, slip and fall, or another incident, if you have been injured in an accident in Cherokee County or anywhere in Georgia, don't hesitate to contact Canton personal injury attorney, Casey W. Stevens. Our experienced lawyers can help you get the compensation you deserve for your injuries and damages. We understand the laws related to plaintiff cases and will work hard to ensure you receive fair compensation for your pain and suffering. We know that medical bills aren't the only costs associated with an accident, which is why we'll fight for all damages, including nonphysical injuries such as lost wages and loss of future enjoyment of life. Our team is dedicated to getting you the best medical attention possible, even if you don't have insurance. And when it comes to negotiating with insurance companies, we have a proven track record of success in recovering monetary compensation for injuries. Our goal is to help you recover physically, emotionally, and financially from your ordeal. Contact us today for a consultation and let us fight for your rights as a victim of personal injury. Remember, results and experience matter – let our team of skilled lawyers handle your case and get the compensation you deserve.
What Sets Us Apart?
At our Canton personal injury law firm, we pride ourselves on providing personalized attention to each and every client. We understand that every case is unique, which is why we take the time to listen carefully to our client's individual needs and concerns. Our team of legal professionals has years of experience and a deep understanding of the laws related to personal injury cases, which sets us apart from other firms. Casey Stevens began his career as an insurance claims adjuster and then manager in one of the largest insurance companies in the world. After graduating from law school, he worked at Swift, Currie, McGee, and Heirs, one of Georgia's most prestigious insurance defense firms. Knowing how things work "behind the insurance defense curtain" is what has made him an expert in handling cases against them. We also have a strong track record of success when it comes to negotiating with insurance companies and fighting for our client's rights in court. But what truly sets us apart is our commitment to helping our clients recover physically, emotionally, and financially from their injuries. We believe every client deserves the best medical care possible, which is why we work tirelessly to ensure that our clients receive the treatment they need, even if they don't have insurance. Our goal is to take the burden off of our clients and allow them to focus on healing and recovery, while we handle their legal case. Trust us to fight for your rights as a personal injury victim – contact us today in our Canton, GA office for a consultation, and let us help you get the compensation you deserve.
Find Out Why Our Clients Love Us!
When you hire our firm, you aren't hiring the "big T.V. marketing machine". When you hire one of those "big guys", you have no idea to whom your case will be assigned. At the Canton Personal Injury Attorney Office of Casey W. Stevens, you aren't a case number. You are hiring your own legal team that will soon feel like family. And when you see the five-star reviews earned on Google, take comfort in knowing you will be working with the same team who earned those reviews.
Communication is Key
When we take on your case, you can expect the BEST experience possible. From the first day, we will explain the entire case handling process, timeline, next steps, expectations, and potential outcomes. We always return phone calls, and when we send correspondence regarding your case, you will get a copy for your own files. We will prepare you for depositions and mediations, and if necessary, trial.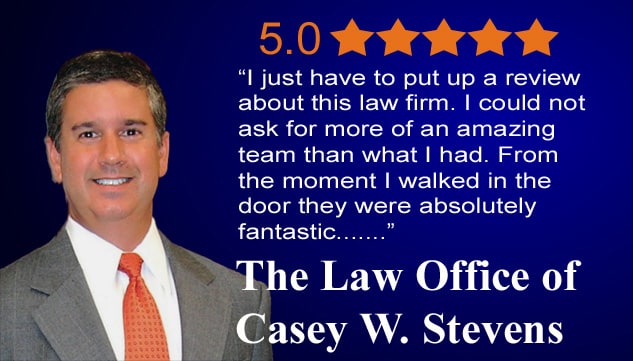 How Much Does a Personal Injury Lawyer in Canton Cost?
Many people don't know that personal injury lawyers don't charge any upfront costs when they take on a case. We work on a contingency fee that is based on how much they recover for clients. Once a case is favorably settled or litigated, payment for the lawyer's services and expenses comes out of the settlement you receive. Does that mean every lawyer will do the best job for you? No! Many lawyers who do not specialize in personal injury law try to take on cases they are not qualified to handle. Just as with other professions, all lawyers do not specialize in every type of law. So if you were happy with your family law, criminal defense, or estate planning attorney, that does not mean they are the best lawyer to handle your accident case. At the Personal Injury Law Firm of Casey W. Stevens, we specialize in accidents resulting in physical injuries.
What Do I Do if the At-Fault Driver Leaves the Accident?
Being involved in a hit-and-run accident can be overwhelming, but there are steps you can take to protect your rights. First, try to gather as much information about the other vehicle as possible, such as the make, model, color, and license plate number. If there were any witnesses present, collect their contact information and ask them if they saw anything that could help identify the driver. Next, file a police report and provide them with any information you have gathered. The presence of camera technology is prevalent in areas that have high traffic volume, and even in neighborhoods, so police can often access footage they need to assist with your case.
What Do I Do If I Don't Have Medical Insurance?
No health insurance after an accident? No problem! Our personal injury law firm in Canton can still help you. We understand that accidents can happen to anyone, including those who may not have insurance coverage. Many of our clients call complaining of neck injuries and back injuries, and we have a large network of doctors who will defer payment until our client's case is resolved. This practice is referred to as a "medical lien", and all of our doctors are the best in the business. Don't hesitate to reach out to us for a consultation. We are here to help you get the compensation you deserve. Remember, we only get paid if we win your case!
What Do I Do if the Defendant's Insurance Company Calls Me?
If the defendant's insurance company calls you, it is important to remember that they are not on your side. They may use tactics to try and get you to say something that could harm your case or offer you a low settlement. The best thing to do is to direct their calls to your personal injury lawyer who can handle all communication on your behalf. This will ensure that your rights are protected and that you receive fair compensation for your injuries. Remember, the insurance company's goal is to pay out as little as possible, while our goal is to get you the maximum amount of compensation possible for your damages.
If I Take a Settlement from an Insurance Company, Can I Come Back for More?
No, once you accept a settlement from an insurance company, you typically cannot come back for more money. It is important to consult with a personal injury lawyer before accepting any settlements to ensure that the amount offered is fair and sufficient to cover all of your damages, including medical expenses, lost wages, and pain and suffering. Accepting a low settlement can leave you with unpaid bills and ongoing expenses related to your injury.
How Long Does a Personal Injury Case Take in Georgia?
The length of a personal injury case can vary depending on the complexity of the case. Some cases can be resolved in a matter of weeks, while others may take several months or even years. Most of the time the duration of the case depends on how serious the injuries are and when an injury victim is released from a doctor's care. Settling a case when treatment is still being received is frowned upon, as it is not possible to receive financial compensation for accident-related injuries and treatment once a settlement is agreed upon.