Are Tougher Boat Safety Laws in Georgia The Answer?
Earlier this week, Governor Nathan Deal stated that he is standing firmly behind some new legislation that is being proposed by Senator Butch Miller, a republican out of Gainesville. The bill will mean some changes to Georgia's boating safety laws and may change the way you and your family will relax on the lakes and rivers in Georgia this summer.
What are the Proposed Changes?
Under the proposed legislation, Georgia would follow in the footsteps of 45 other states and lower the BUI (Boating Under The Influence) limits down to 0.08 -- the same as the legal limit for operating a motor vehicle (the current BUI limit is 0.10). Also in the bill backed by the governor is the plan to raise the minimum age for life vests from 10 to 13 years, and the limits to the types of watercraft that children and teens are permitted to operate. The bill requires those desiring to operate a boat in Georgia complete a free online safety course, and for anyone seeking to operate a watercraft with more than 10 horsepower would be required to attend an additional safety briefing.
Senator Miller felt certain that the proposed bill would have a great deal of support, and as an Atlanta, Georgia boating accident lawyer, and jet ski accident attorney, I agree. From what we've seen of the bill, it seems like it is full of reasonable steps that have the potential to save a lot of lives, especially those of our children. However, it also doesn't allow for tougher prosecution for violators: it doesn't require basic liability insurance for owners of watercraft, and while it calls for "licensing," the proposed bill's definition of "licensing" involves a free online questionnaire. The bill does not address the problems of overcrowding on Georgia's lakes and rivers nor does it address the conduct of boaters such as speeding or operating a boat in a negligent manner..
Why Now?
You may recall this past Summer that Paul Bennett ran his 22 foot center console fishing boat into a 17 foot pontoon boat where three families were relaxing on Lake Lanier. Eight people died as a result. Included in the eight deaths were 9 year old Jake Prince and 13 year old Griffin Prince. It was proven that Mr. Bennett was intoxicated well beyond the 0.10 limit. Last summer, Kyle Glover-- the 11 year old stepson of musician Usher--was also killed on Lake Lanier when he was run over by a jet-ski while riding on an inner tube that was being pulled by a pontoon boat. Alcohol was not involved in this accident; however, speed and overcrowding were both implicated. Each of these tragedies, particularly the death of Usher's stepson, attracted national attention, and Georgia received vocal criticism for what some referred to as "lax safety standards" on our waterways.
Does the Bill Really Address the Issues?
According to the US Coast Guard Boating Safety Resource Center, the 2011 statistics found that "Operator inattention, improper lookout, operator inexperience, excessive speed, and machinery failure rank as the top five primary contributing factors in accidents." This bill does not do much to address any of these factors. It does, however, address alcohol, and according to the same report, "Alcohol use is the leading contributing factor in fatal boating accidents; it was listed as the leading factor in 16% of the deaths." Although alcohol is ranked as the 6th overall cause, it was a contributing factor in many of the top 5 primary factors (i.e., an inexperienced, drunk operator who was not paying attention and speeding.)
According to the U.S. Coast Guard Boating Accident Reporting Database, Lake Lanier has been the site of 307 boating incidents since 2006. There were 92 boating fatalities in the state since 2006, and 25 of those occurred in Lake Lanier.
Who Besides Senator Miller had Input on the Proposed Bill?
The "Lake Lanier Legislative Caucus" (a group of Georgia lawmakers made up from Hall, Gwinnett, Dawson and Forsyth counties, all contiguous to Lake Lanier) met several times over the past year to discuss the elements of this bill, and many of the senators and representatives in attendance were shocked that many of these rules as well as other rules that were discussed that weren't already in place. For example, you can have your driver's license revoked for getting a DUI but still legally operate a boat in Georgia. You can rent or buy a boat and take it out on the water without ever having completed a safety course or precursory instruction. After one such meeting in Cumming this past October, Stephanie Woodard--the current solicitor general for Hall County--said she would like to see mandatory boating education instituted.
"The rules of travel on the waterway are different than the rules of the roadway," she said in an interview after the meeting. "Most folks think that if they know how to drive a car, they know how to drive a boat."
So Will the Lakes in Georgia be Safer?
We have to ask, does this bill really protect us, or is it bureaucracy and legislation that lets the real dangers on our water ways slip through the cracks? Why not require stricter licensing and safety training? Why is the legal limit not 0.04 like it is for pilots? If you are drunk at 0.04 in a plane, then why aren't you drunk at the same level in a car or boat? And, is this really the answer since most accidents where alcohol is a factor are caused by operators who are well beyond these limits? Shouldn't the bill also allow for stricter prosecution of those who violate the rules and cause injury or death to others on our lakes and rivers? Why not require boaters to carry liability insurance like they must for a car? Why not require yearly inspections of watercraft to determine that they are mechanically and structurally sound?
This proposed bill is a step in the right direction, but there are still many issues that need to be addressed. Senator Miller has made a good start, but a 0.02 drop in the intoxication level and an online questionnaire to receive a license will do little to make the lakes and rivers of Georgia safer for those who frequent them. At the very least, speed limits, equipment inspections, and proper operator instruction should be included in the legislation. Stricter prosecution and increased liability should be considered deter those who would risk their lives and the lives of others through the willful and wanton negligent operation of watercraft.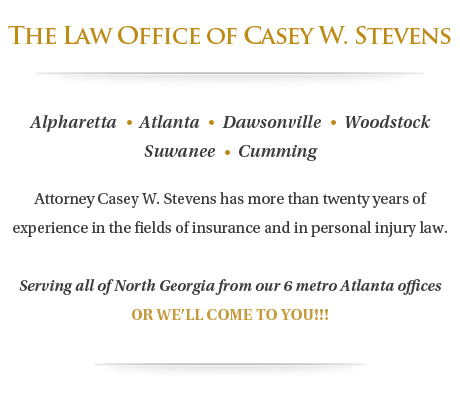 Call Today for a Free Consultation - 770-408-6364